1900s
On June 20, 1955, Bishop Joseph H. Albers, of the Lansing Diocese, announced the establishment of a new parish, St. Jerome Catholic Church.  Father John Hamilton was assigned as pastor.  The first Mass was celebrated on July 31, 1955, at the Level Park Fire Station.  The new church was build on Collier Avenue in Battle Creek and was dedicated on May 19, 1957.
After the sudden death of Father Hamilton on January 8, 1980, Father McKeon served as administrator of the parish until Father John O. Hayes was assigned.  The parish added school classrooms with sixth grades opening in September of 1962.  Mother Alphonsa, SSJ, was the first principal.  Seventh and eighth grades were later added.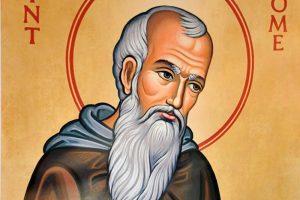 In August, 1966, Father Elmer Wieber became pastor.  The first Saturday evening Mass in the area began during his stay.  In 1967 Sister Marie Celine came to St. Jerome as principal.  On June1, 1968, the first parish council was organized following the directive of Bishop Alexander Zaleski.
In October of 1969, Father Walter Spillane became pastor.  Under his guidance grades seven and eight were moved to St. Philip.
In 1971, the parish became a part of the newly organized Kalamazoo Diocese under Bishop Paul V. Donovan.  In August of 1974, two Salvatorian priests, Rev. Peter J. Coffey and Rev. William J. Remmel, were appointed as a pastoral team.  Sisters Mary Rose Krupp, OSU, Dorothy Pohl, OP, and Brigetta, SSJ, joined the pastoral team in August, 1975.  Following the recommendations of the Kalamazoo Diocesan Education Commission, the school was closed in June 1976.
Extensive remodeling of the church interior was completed in 1980, prior to the 25th anniversary of the parish.
Father Edwin G. Palmer became the new pastor of St. Jerome in July 1981.  Numerous maintenance and remodeling projects were completed under his guidance.  The "Young-at-Heat Club," a Youth Group and a Ministry of Praise program were initiated.
In 1997, Father Paul Cummings was appointed pastor and remained for two years and in 1999, Deacon Albert Patrick was appointed Pastoral Administrator.
2000s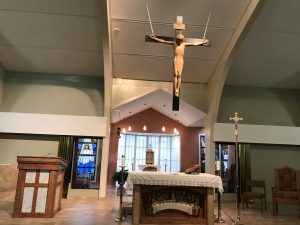 St. Jerome's 50th Anniversary, as a parish, was celebrated in June of 2005.  Father John Tuyen Tran became pastor of St. Jerome in 2006 until 2010.
In July 2010, Father Mathew Manalel was appointed pastor of St. Jerome.  Under the guidance and leadership of Fr. Manalel many changes were made and traditions reinstated.
The blessing and rededication of St. Jerome was held in July, 2013.
Father Mark Vyverman was appointed canonical pastor in August, 2013.
Father Christopher Derda was appointed canonical pastor in July, 2014.
Father Christopher Ankley was appointed pastor in July, 2016.